#UKgovishiring. Digital, data and technology teams across government will be at Silicon Milkroundabout tech fair on 25 and 26 November in London.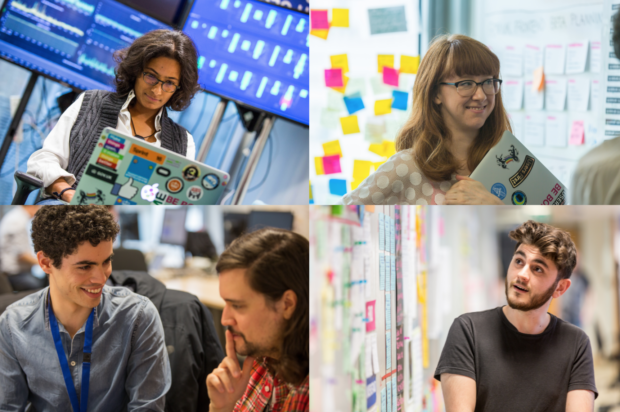 We're looking for passionate and bright people who want a career in digital, data and technology which delivers real, meaningful change for millions of people.
Our impact in the UK and beyond
We're making public services simpler, clearer and faster to use. We're building the digital government of tomorrow.
The UK Government is recognised as a world leader in digital government; It ranks at the top of the United Nations' E-government Index. The U.S. Digital Service is modelled on ours, the New Zealand Government has used GOV.UK source code for their own online presence; countries like Canada and Australia are modelling their transformation on ours. Not only has GOV.UK won awards including the Design Museum 'design of the year' it has saved the taxpayer over £60 million so far.
But it's just the start. 40 major government change programmes are underway that are anticipated to deliver billions of pounds in benefits.
The potential to explore and shape our society's future
The MoJ Digital & Technology team is building and running groundbreaking services to improve access to justice for countless people who interact with the system every year, through courts, tribunals, prisons and the probation service.
DfE's work impacts a huge portion of society, empowering people through learning, and making education better for generations to come. Many of the new digital services they are developing are the first of their kind.
At Home Office our Digital solutions help provide better services like renewing a passport, or getting permission to visit the UK. We also build systems that provide our teams with access to the data they need to keep the the country safe.
DVLA is migrating legacy technology onto new, cloud-based platforms that deliver up to 50 projects of varying size, risk and complexity. Our services will have the reach to every household in the UK, the size and scale would be the envy of any UK e-commerce service provider.
GDS is the home of GOV.UK and creates shared digital platforms and tools that can be used across government to facilitate transformation, through programmes like Government as a Platform and the roll-out of GOV.UK Verify.
We may be the right career choice if you value:
a diverse and inclusive place where you can be yourself

impactful, meaningful projects

putting users first, always

trying the latest technologies, on a large scale

agile, small, autonomous teams

big communities, where you can share, learn and progress

visible

career pathways

and opportunities across departments

training and development

a place committed to reflecting the public it serves

Projects nationwide

Whether you are a developer, technical architect, delivery manager, work in user-centered design or data science, we currently have an unprecedented number of transformational projects across the UK.
We're redesigning some of the existing services on a large scale as well as creating new cross-cutting government products. The potential to explore, take responsibilities and shape our society's future is enormous.
What our people say
I don't think there's anywhere else I could have such an impact on such scale
David, Tech Lead and Developer at Government Digital Service
People here are chosen not just for their skills but for their values. It's the perfect mix for anyone looking for an innovative workplace with soul!  Iria, User Researcher at Department for Education
It's an excellent place to work and really breaks many of the traditional stereotypes associated with government. Adam, Developer at Ministry of Justice
"It amazes me how much we do, how much is being achieved, and how much more there is to do. The constant is the talented people I get to work with." Cat, Head of Content at GOV.UK
Government Digital Service (GDS), Department for Education (DfE), Ministry of Justice (MoJ), Driving and Vehicle Licensing Agency (DVLA), Home Office, HMRC and other departments will be on stand 108/109. 

Check our profile and read our blog Digital People. To learn more about our careers and job opportunities go to @digicareersgov

#UKgovishiring