Government Digital Service (GDS) is hiring Delivery Managers. Amy Fox gives an insider look at the job, and explains how she found her way to the world of digital.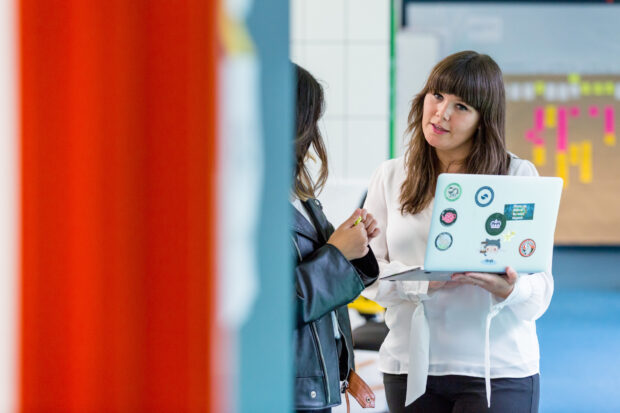 Where my career began
I currently work as a Lead Delivery Manager on the Digital Marketplace. A lot of my work focuses on making sure government procurement is open, fair and transparent. However, my career began in a very different area.
I studied Russian and German at university. As part of this, I had the chance to live in St Petersburg and Munich. It was as part of a masters in Translation Studies at Edinburgh University where I was first introduced to project management. And, in this blog post, I'm going to explain how I ended up in the world of digital.
My first steps on the career ladder
Fresh from university, I found work as a project manager in a translation agency in Edinburgh. The agency specialised in software localization and dealt with really big clients such as HP and Bose.
Dealing with these market-leading clients definitely gave me a taste for big challenges, which led me to accept an offer to head south to London to work at Net-a-porter. Here, I was in charge of starting up a programme team to deliver translated versions of the site in German, French, Simplified Chinese, Russian and Arabic.
Net-a-porter was a fascinating place to work. As a successful e-commerce website, it was an exemplar in Agile. And, it was here that I first learnt about the methodology.
How I found my way to GDS
For a really long time, I wanted to work in the public sector, where I strongly believed that my commercial background would be a fantastic asset. Although I'd found my work to date interesting and stretching, it didn't give me a sense of emotional satisfaction. After a bit of deliberation, I decided to take a chance and apply for a role at GDS.

What does a typical day look like for you?
I know everyone says no two days at work look the same - but it's particularly true for my role. The Digital Marketplace team has rapidly expanded over the past few years, so there was a lot for me to tackle, straight away.
My day involves anything from looking after small day-to-day jobs to things on a  macro programme level. From strategic visions of the work that Digital Marketplace does to everything in between.
An important part of my job is ensuring that I am consistent in asking a lot of provocative questions in meetings. I need to ask the questions no-one else will ask, to make sure we're doing the right thing. I have to go to a lot of meetings and manage my work around these.  
In my role, it's really important to consistently deliver tangible value to users. I take personal satisfaction from ensuring the team are moving forward, progressing and delivering on a daily basis. Enabling this forward motion is the most important thing to me. And, I have to ensure that we're doing the responsible thing and being accountable with the public money allocated to us.  
It's really important that I communicate well with the team, and that we trust each other. We ensure we're structured without a hierarchy, giving people the freedom they need to do their work.  And, we trust in one another's expertise when it comes to making decisions.  
The most exciting parts of my role
I feel passionate about delivering value to users. I want to go home feeling I've helped to make a difference, however small or intangible that might be. I also help the Digital, Data and Technology Fast Stream programme as an assessor on the Final Selection Boards, helping to bring diverse new talent to the organisation.
Another part of the role is working with the Delivery Managers in my programme of work and in my community and helping them to continuously improve. One excellent resource we have is the Delivery Management course delivered/run by the GDS Academy.
The most valuable things I've learnt
I've learnt a lot at GDS, but perhaps one of the biggest lessons has been that, for me, feeling like my work has a positive impact on people, is fundamental to my work satisfaction. And, that working with talented people with a similar mindset is incredibly rewarding.
No matter how challenging my work day, I walk out of the doors of our central London office building feeling like I've accomplished something.
If you're eager for a rewarding career, my advice would be; just do it. And don't wait for something to give you a push. Push yourself.
Join me
We have just published Delivery Manager job opportunities. Maybe the best person for one of these roles is you. Give it a go - you've got so much to gain. Find out more and apply until 10 December.
Amy Fox is Lead Delivery Manager at GDS
If you're interested in working in digital, data or technology roles in government please follow @digicareersgov #UKgovishiring