A year ago we worked with the community to scale the Introduction to Product Management course. It was delivered across the country in classrooms, but it could not meet demand. With a waiting list, rooms being hard to find, and product managers already busy with day jobs, we started to explore online learning.
This year we ran our first pilot of the Introduction to Product Management course for 119 people in government on FutureLearn. This was delivered over 3 weeks, and asked learners to spend 3 hours a week on the material. We worked very closely with the content design community, who had been through this process with their Introduction to Content Design course.
In this post, I'm going to talk about why and how we built the course as people worked remotely, what we learned from it, what surprised us and what we're doing next.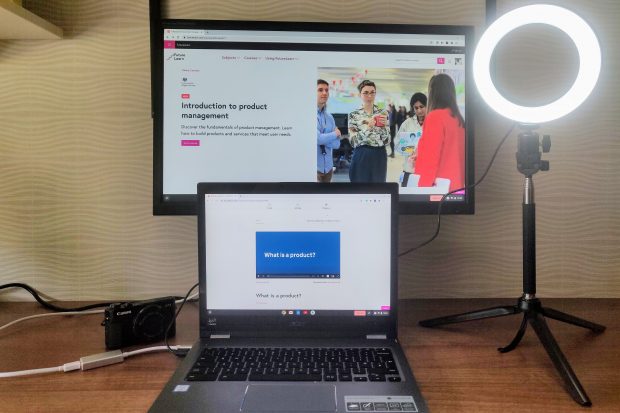 Building the course during lockdown
A good course has high quality videos with practitioners explaining things in detail. I was building this course as the country moved to working remotely, so my colleagues and I had to think creatively about how we were going to create videos. 
This is a community-led course and it was important to us that we involved our Product Managers. I reached out to the cross-government product management community to see who would like to be involved. 
I sent the volunteers a series of questions which they would respond to on camera, creating a segment of the course. They included questions like "What is a product?" and "Who are the users of the product you manage?" I wanted to get across the informal, friendly vibe we had in the classroom. I set them a deadline and instructions on how to film.
Once I received the footage, I edited it into short videos where we heard from different product managers. The videos were a rough cut, so I brought in help from the Creative Team at GDS to polish it and level out the sounds. The videos were one of the most time-consuming parts of the course, but were key in building it.
The other component of the course was adapting slide content into digestible steps. I worked closely with our content learning designer, Agnieszka Murdoch, to turn the content into articles, quizzes and peer-reviewed assignments. A key part of engagement for online self-led learning is to encourage interaction at the bottom of each step. That meant asking questions like "What is your favourite product?" or creating tasks such as "Write a User story". 
Making online learning social
The benefit of classroom training is the opportunity to be social and network and we were keen for learners to still have the opportunity to interact with others. 
We had a waitlist of more than 200 people. We hand-selected a diverse cohort of 129 people from government departments and other public sector bodies, including local councils and the NHS. Our learners spanned professions, including content designers, executive assistants and developers.
The course was built on the FutureLearn platform, which has an environment where learners can interact with us and with other learners through discussions, commenting on things, sharing their own experiences and learning from others.
A good measure of success for us therefore was engagement on the platform:
114 out of 129 people enrolled on our course became activated learners, participating in at least 2 steps

57% completed the course (this number reflects activated learners who completed at least 90% of the course and scored 75% on the tests)

every week we had 26% to 23% of the learners commenting on the steps
Measuring meeting learning objectives
The course had people engaged but did it meet the learning objectives? 
The course had 3 main learning objectives: 
raise awareness of the Product Manager role

teach some key Product Management skills which everyone can use in their day job

help people to decide whether they would like to work towards a role in Product Management and introduce them to other learning
To measure this we conducted a pre-course survey and a post- course survey asking our learners to rate themselves on certain statements.  Here are some of the key findings:
before the course only 24% of learners said they "can explain what product management" is, after the course that went up to 75%

before the course only 3% of learners felt confident enough to explain to others "what a product managers does and what skills they need", after the course this went up to 43%

before the course only 5% of people said they "can create a product vision board", after the course this went up to 66%

before the course 9% said they "can use product management techniques to prioritise the work of their team", after the course this went up to 59%
Thanks to the survey we conducted, we realised people took the course for a variety of reasons. The main themes were:
understanding the Basics of Product Management 

understanding the role of a Product Manager and how best to support and work with them 

using Product Managing techniques and Product Management Skills in their day job 

helping to decide whether to work towards a role in Product Management 
We asked them if the course met their learning needs and 77% said it helped them a lot.
Positive feedback from learners
We were overwhelmed by the positive comments that were shared with us about the course. Here is a select few:
Myles Jarvis - Delivery Manager at Department of Education:
I found the course incredibly valuable. The mini activities made me think about the techniques that were presented and actually implement them. I also think the engagement from the participants has been a very positive addition to the course as a whole.
Giuseppe Sollazzo - Head of Data at Department for Transport:
The course has clear concepts, concise explanations, and good opportunities to test the learning with simple but "challenging enough" exercises. It didn't feel daunting, but it still provided enough of being out of my comfort zone. One of the best balanced courses I've ever attended.
Jane Van de Ban - Content Product Lead at GDS:
What a great course. I've learned a lot, some of what I've learned is that I'm already doing some of this stuff  and that this approach is something I need to embed in my work more formally.I really enjoyed the videos and the articles.
Next Steps
We're proud of meeting the objectives and building a course while working remotely. We're now in the process of iterating it and exploring how we can make it available to more people. If you're interested to hear from us about future courses then leave your details.