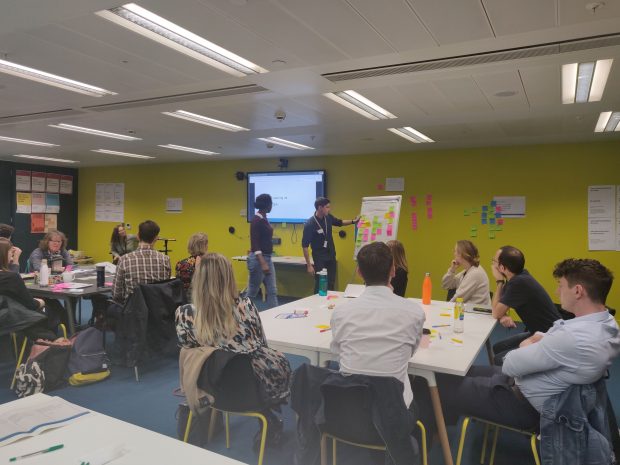 The Introduction to Product Management course is a community-led course. It's for non-product managers who want to understand the role better and find out about techniques they could use and apply in their day jobs. 
The objectives of the course are to: 
raise awareness of the Product Manager role in Government

teach some key Product Management skills which everyone can use in their day-job, and

help people to make a decision on whether they would like to work towards a role in Product Management and introduce them to other learning
The course is run over one day and covers:
what a product is

developing a product vision

knowing your users

planning delivery, and

setting priorities
This course is designed to be the starting point for anyone who wants to get into Product Management. It forms part of our wider learning and development plan for Product Management in Government. This learning and development plan includes:
Why we decided to create this course
As the Community Development Manager for Product Managers and Delivery Managers across Government my job is to develop and build the communities.
In June 2017, I sat in on the Introduction to Product Management course delivered by the Head of the Product Management Community, Jon Forman, who was using material put together by Ross Ferguson, Jon's predecessor at GDS. I also more recently attended the one-day Introduction to Service Design course run by the User-Centred Design community.
Both courses encouraged anyone with an interest in the subject to attend and find out more, regardless of their role. As Community Development Manager I was inspired to make it easier to understand the product management role.
This benefits the wider PM community because it raises awareness and understanding of the role across Government; from the individual PM facilitator's perspective, it helps to build learning and presentation skills, and consolidate their PM knowledge.
Scaling the course through the community
To meet increasing demand across government for the course, I considered how we would scale the course and opportunities for people to attend. As the content of the course was easy to repeat and deliver independently, we used the Product People community to find product managers willing to be trained to deliver the course.
I was fascinated to realise there is a lot of digital transformation in many areas of government that means there's lots of new opportunities for people to move into product roles. This course offered people an opportunity to understand more about the role and meet others working in similar situations to them.
I invited 5 Product Managers to the next cross-government course we ran to see our other facilitators in action, and developed a facilitators' guide explaining how to run the course, including details about how I can support them in my capacity as Community Manager. I also developed a handout for the training to make it easier for Product Managers to run it.
Clare Cooke, Lead Product Owner at NHS Digital, and course facilitator said:
I decided to be trained up in the materials to deliver the course as I receive so many requests from people in my organisation interested to learn about the Product Role. These come from individuals for a variety of reasons. Some are contemplating a career move into Product, some have or are working alongside Product Owners and want to know more about the role for that reason and some are just curious!

Providing the course allowed me to set time aside to focus on promoting my profession and to challenge my own thinking. It's a great way of meeting new people and widening my understanding of the organisation by learning a little about them too.
We quickly realised that having Product Managers shadow facilitators for the whole day was overkill. Our volunteers already used the techniques described in their day jobs and therefore only really needed around an hour with myself or another facilitator to go through the content and exercises. 
We decided that we could make people comfortable with the material over an hour on an online call. 
Using this method, we have achieved several things:
18 Product Manager community facilitators have been trained

84 people across government have completed the course

3 cross-government courses have been held in London, one cross-government course in Southampton, and one run for NHS Digital in Leeds

We have 2 cross- government courses coming up: one in London and one in Manchester

We have a waiting list of over 80 people
What we've learned
If we had kept the course content and delivery confined to our GDS community we would never have been able to scale up to meet demand. And by involving the wider government  community this way, we've been able to evolve the course content and make it better. 
I keep all facilitators in the loop about potential and actual changes to course content and encourage them to use examples relevant to the people they are training, localising it to their department or setting.  
I collect feedback centrally to see how the course is being received and spot opportunities to improve. I'm happy to say that, even though the course is dispersed and run by different people around the country, feedback has been consistently positive all around.
Dilwoar Hussain, Senior Developer at GDS, and course attendee said:
The introduction to PM course allowed me to understand the thinking and process of a PM when coming up with new features. It gives developers an insight into decision making and allows us to assist the process where we feel things can be improved.
Overall the course has taken off and we're now exploring how we might continue to scale the course by making the content available online. We believe this would create a better user experience for the learner and allow us to track impact and help manage talent better.
If you're interested in hearing from us about our next course in person or online then join the waitlist.
I would love to hear your comments. You can leave comments on this post or start a conversation with me on Twitter @Arf_22
If you're interested in future meet-ups, follow the #ProductPeople Twitter hashtag, or join the #prodmgmt community on the cross government Slack channel.