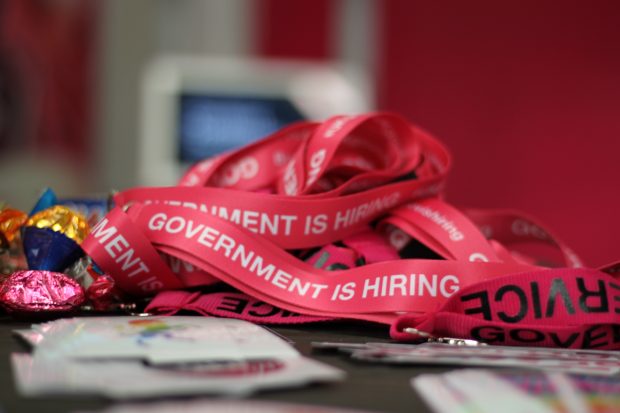 On 27 and 28 April, digital, data and technology teams from several government departments will return to Europe's largest tech job fair Silicon Milkroundabout to recruit together.
Since our first attendance in 2017, hundreds of people have been able to chat with some of our software developers, technical architects, delivery managers, webOps engineers, data scientists, designers, product managers and more on the #UKgovishiring stand.
Many were unfamiliar with digital government despite using our services in their daily lives. They were able to find out about different organisations and their distinct missions, but also what they all shared in common. Some of them have joined our large family as a result.
Why work in digital government
In 2019, there are more opportunities than ever before to tackle cutting edge technical challenges in government, and play an active role in shaping our society's future.
Technology is evolving faster than ever and we have a strong commitment on innovation. We also provide unparalleled training on emerging technologies including from world-leading academics.
Here are some of the things that make us unique:
Our tech stack
Our multidisciplinary teams work in an agile environment, use open source technologies and continuous integration in DevOps culture. Our tech stack includes: Ruby, Python, Java, Go, AWS and more – but we're continuously looking to use the best tech to build the best platforms.
What our people say
Tansy, Service Designer and User Researcher, @tradegovuk

"It's an exciting environment, where government is truly experimenting with new ways of working, and nurturing genuine user intelligence-led service and policy design. It's a place where your ideas and input really have a chance to flourish and activate change in government and for the UK economy."

"We use the latest web technology and work in a modern digital environment. The best things about my job include the flexible hours, learning opportunities and working with great people on some difficult and challenging problems."

"I was thrown in at the deep end, having to code ETL routines in Informatica and PL/SQL. It has been a steep learning curve, but one that has been exciting."

Dhiren, Technical Project Manager @beisgovuk

"Working in the Civil Service and BEIS is really fulfilling. The projects enable the staff to deliver policies for the wider public, and you work with a wide range of people from users to suppliers."

Leema, Associate Delivery Manager (pictured above) @GDSTeam

"The things we work on have a big impact on people's lives and it's a great sense of accomplishment to come into work everyday. I work with talented people and there are infinite opportunities for learning and development which push me to grow in my role everyday."
Building the best public services starts with people
We believe that building the best public services starts with people because without people there isn't a service. We want to build brilliant digital, data and technology teams that reflect the society we serve. Because an inclusive working culture bringing different backgrounds and perspective together helps deliver better outcomes for the public.
This is why it's important for us to reach out and connect with as many talented professionals as possible out there and talk about what we do to make government work better for everyone.
Come to stand 106/107, on 27 and 28 April to chat to teams from Ministry of Justice, DWP Digital,  Department for International Trade, Government Digital Service, Department for Business, Energy and Industrial Strategy and more.

Follow @digicareersgov for digital, data and technology jobs opportunities nationwide.