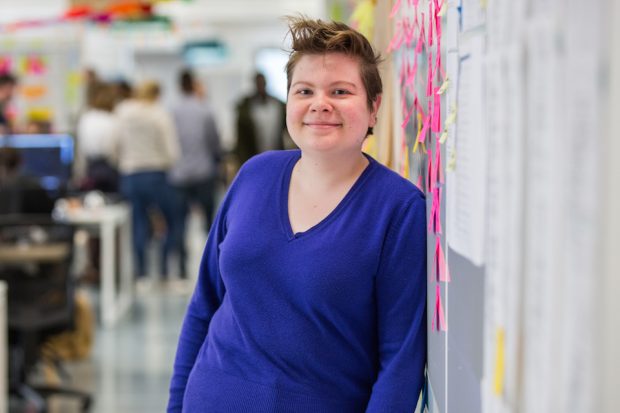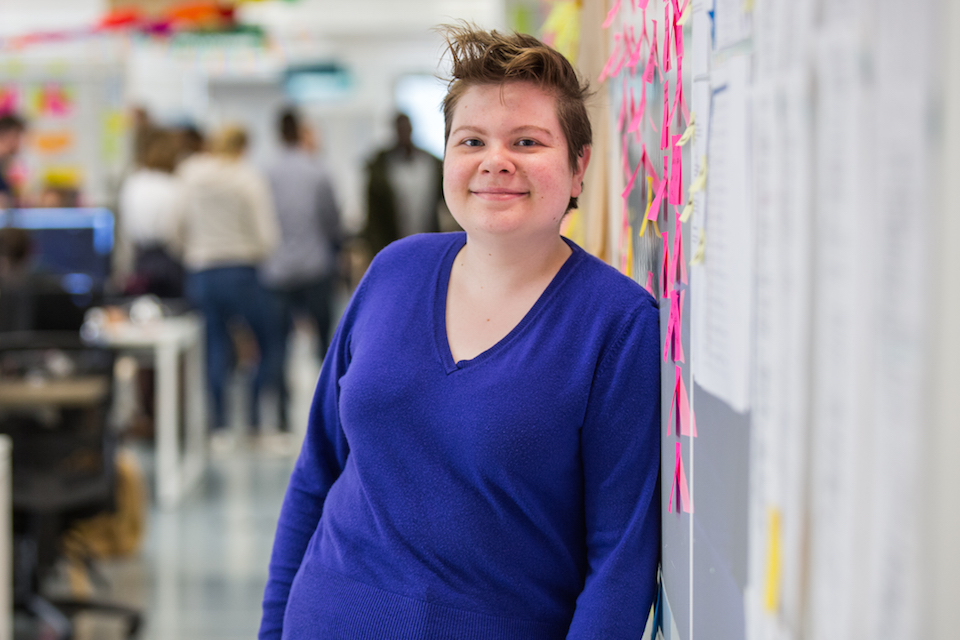 Most people don't assume I'm autistic. I'm chatty and I love people. But the world is bright, loud, and full of incredibly complex social interactions. Quite often that's just too much.
My name is Tia Shafee, I'm a 4th year Generalist Fast Streamer. I'm currently a Policy Advisor at the Government Digital Service (GDS).
I was diagnosed with Asperger Syndrome at age 19, after my first year of university. Having a diagnosis has been really helpful, both for understanding myself and for getting the support that I need.
Neurodiversity in the workplace
The world is too bright, and offices are no exception. After a few hours, I can be in considerable pain, so we've dimmed the lights over my desk and I have software to adjust my screen colour. I also use funky purple paper, rather than white which is too reflective.
Open-plan offices can be great for grabbing someone quickly or for seeing if a colleague is in. But they're noisy, and it doesn't take much for my brain to overload. So I can most often be found with my headset on, listening to a soundtrack to give my brain something to focus on as I work.
I've been to 6 different organisations on the Fast Stream including a secondment to local government. During that time, I realised that there were a lot of people like me all across the public sector, and that we weren't talking to each other.
I also found that many colleagues across the public sector interact with people who have autism and other conditions, whether colleagues, line reports, or public users. They need support too.
It's important to hear a variety of experiences
I'm happy to share my experiences of being autistic with people, but there are two problems:
When you've met one autistic person, you've met one autistic person. We need to hear a variety of stories and experiences. I can't speak for people who have conditions other than autism.

I can't talk to the entire public sector, no matter how hard I try!
So in February 2017, I launched the Public Sector Neurodiversity Network.
Neurodiversity is the idea that human brains come in a wide variety, and that conditions such as autism, dyslexia/dyspraxia/dyscalculia/dysgraphia, ADHD, and Tourette's Syndrome are all normal parts of that variation.
Someone who is neurodivergent might think or function differently, and that can often impact their work. Many workplaces aren't set up to support neurodivergent employees - or don't understand how to.
It is the Civil Service's ambition to be the most inclusive employer in the UK by 2020.That means making it the best possible workplace for people who are neurodivergent.
The aims of the network
We want to:
connect people with neurodivergent conditions for mutual support

raise awareness and understanding by sharing our stories and experiences

support managers and colleagues to help neurodivergent people they work with by sharing top tips and advice

raise the profile of the value of having a neurodiverse organisation, and how organisations can make this easier through recruitment processes and reasonable adjustments
The network is open to anyone working in the public sector, whether they have one of those conditions or if they just want to learn more about neurodiversity.
We have a quarterly newsletter, which is an opportunity to share best practice and personal experiences. It's easy to join the network and make sure you get our newsletters.
We're also on Twitter, and you can contact us by email.
World Autism Awareness Week runs from 26 March to 2 April 2018.
Coming up
Our first major event is happening on Tuesday 3 April, 5.30 to 7pm in London. You can register to attend on Eventbrite.
For Autism Awareness and Acceptance Week we'll be changing up the usual narrative and hearing from autistic people across the public sector about the things they're great at, and what they're interested in. We'll also have an introduction from Civil Service Chief People Officer, Rupert McNeil.