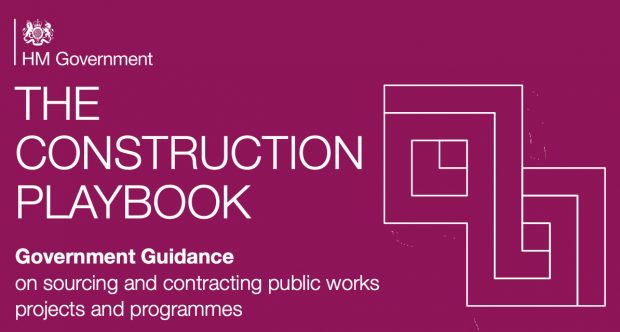 The Construction Playbook was published in December 2020 to deliver on the Prime Minister's ambition for 'faster, better and greener' construction by transforming how we assess, procure and deliver public works projects and programmes. The Playbook sets out policy reforms and guidance with digital and technological solutions forming a core part of these reforms.
Construction is a key UK industry, and has a significant impact on our economy, jobs, and wider goals such as net-zero and levelling up. However, there are a number of pressing concerns including stubbornly low productivity growth and a sustained lack of investment into new technologies and skills. 
This has a significant impact on government: public works projects and programmes make up a significant proportion of government spending and up to £37 billion of contracts across economic and social infrastructure will be brought to market over 2021. To meet this ambition, we will need to change the way we approach the delivery of public works.
Building on the success of the Outsourcing Playbook, the Construction Playbook sets out 14 key policy reforms, incorporating 8 policies of best practice adapted from the Outsourcing Playbook with 6 policies new to the Construction Playbook. 
These reforms must be considered as a package; however, 2 of the key policies we believe will lead to significant impact on the sector include 'harmonising, digitising and rationalising demand' and 'further embedding digital technologies.' 
Harmonising, digitising and rationalising demand will enable standardised, repeatable design, components and interfaces and drive the adoption of Modern Methods of Construction (MMC) including digital and offsite manufacturing technologies.
Increased digitisation and standardisation can drive innovation, with a real-world example of this being the kitchen, where standardised dimensions for white goods have enabled greater innovation and competition in more meaningful measures such as energy efficiency. Similarly, we will work towards a reduced catalogue of interoperable components to achieve a number of benefits in terms of cost, speed, and carbon footprint.
By 'further embedding digital technologies', we will standardise our approach to generating and classifying data, data security and data exchange. By building on the existing requirement for Building Information Modelling (BIM) in the delivery of projects, we will support the better and more effective use of information. 
Another element integral to the Construction Playbook reforms is the move towards an increased use of Modern Methods of Construction (MMC). MMC is a wide term, incorporating a range of technologies from offsite manufacturing and onsite techniques. MMC provides alternatives to traditional methods and has the potential to deliver significant improvements in productivity, efficiency and quality for both the construction industry and public sector. 
Harmonising, digitising and rationalising our demand will increase the use of MMC and we will need to change the way we procure construction to support investment in MMC and skills. Building on the presumption in favour of offsite construction, there is a new expectation for departments and ALBs to set targets for the level of use of MMC in the delivery of projects and programmes.
These reforms will require that we change as clients and embrace new, digital ways of working. The Construction Playbook is the product of extensive collaboration across government and industry, and in order to drive effective change, we need to maintain that collaborative approach and we will work with DDaT professionals to create a digital transformation. 
The Construction Playbook can be found here and for any questions, please contact the Sourcing Programme at sourcing.programme@cabinetoffice.gov.uk.