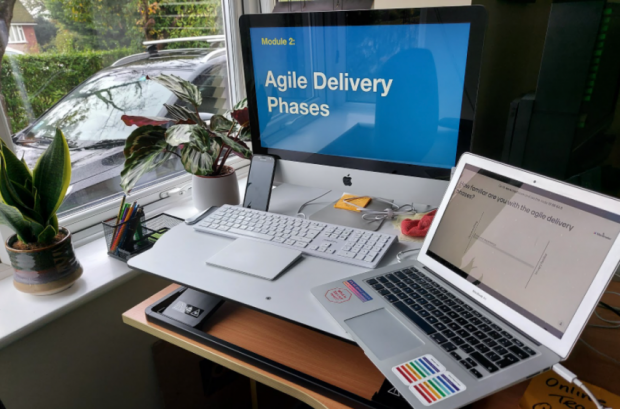 The GDS Academy exists to build digital capability across government and has trained nearly 13,000 public servants so far. As part of our vision to continue to offer high quality learning across the UK, the Academy started to look at blended learning opportunities in early 2019.
In February 2019, I attended a free webinar in live online learning and this changed my perception of online learning forever. In April 2019, I became a certified online facilitator and set about sharing my knowledge with the rest of the Academy. Of course the only way to do this was to create a live online learning session to teach the art of online facilitation and in November 2019 I started to deliver this to the rest of the Academy facilitators.
Then the need to work remotely accelerated the work
By March 2020, I had delivered this course to over 50 GDS and Academy staff who were now using this knowledge to develop learning/collaboration sessions in the new COVID-19 world we found ourselves in. As a result of what I learned from the "facilitating online training" course, I developed the "facilitating online meetings" course as feedback suggested that this would be useful too.
By the end of September 2020, over 300 wider public sector users have attended these 2 courses. And the work done in developing and delivering live online learning allowed us to pivot quickly to online learning when the classroom was no longer available to us or our users.
What is live online learning? Live online learning is an interactive and engaging method of learning online. This means that as part of its design, interaction with users takes place approximately every 3-5 minutes. We use a range of methods for this interaction from using the text chat feature, to polls, microphones and collaboration software, which combine to deliver an engaging learning experience. And the groups are small (10-15 people) so that there is time for everyone to get involved.
Isn't live online learning just a webinar?
No. A webinar is mainly one-way communication to large audiences, whereas live online learning is fully interactive and demands the users' attention more. It is as close as we can get to replicating our popular face-to-face learning experience online. We do not record for watching later as the engagement is the essence of the learning.
Can live online learning work for larger groups? Yes. I supported the Content community's ConCon9 event in May this year, which showcased how the principles of live online learning can be used for larger events (approximately 300 users). We found that the larger the event, the less time there was for individuals to interact, but that you can still include a range elements, making the session as engaging as possible. However, to get the small group interactive experience we also made use of breakout rooms, which gave everyone a chance to be involved.
What have we learned from delivering live online learning? Our users love the interaction and the personal feel of the classes. Users told us how much the interaction makes them feel included and that this helps their learning. They also get the chance to learn from each other, which is a vital part of building capability.
Based on user feedback, we found that designing the modules to last 1 - 1.5 hours means that learning fits in with busy schedules. Some users have even said that they prefer this type of learning to classroom sessions.
The biggest challenge has been ensuring we develop our materials specifically for live online learning, as we learned that delivering existing classroom materials in an online environment really doesn't meet user expectations. At first it was really tough, as you feel you have too much to teach in one session and the temptation is to just cram it all in.
So we started by understanding what was going to be of most value to our users and then working out the best way to teach this. We used techniques like posing questions for learners to think about instead of simply delivering material. We then built on them during the learning and used techniques like quizzes designed to help people learn rather than just to consolidate existing knowledge. The feedback tells us that this is working well.
What about Digital and Agile courses?
As a result of what we learned developing the above 2 courses, the team developed a Digital and Agile Bitesize Basics course of 10 one-hour foundation-level modules delivered across 5 days in the live online learning style. These have proved very popular so far and there is now a waiting list for attendance. 
If you want to know more about what the GDS Academy has to offer just head over to our page on GOV.UK or follow us on twitter @GDSAcademy.