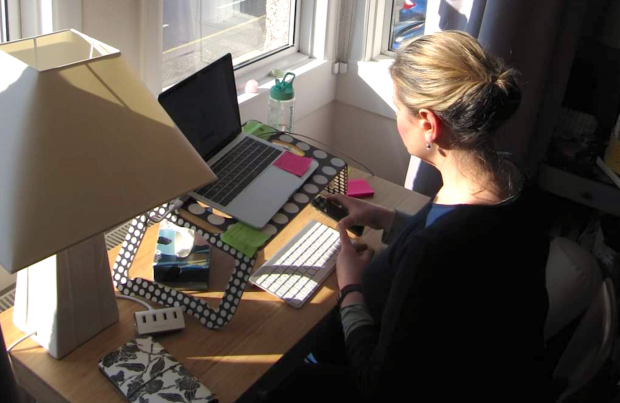 Year after year my learning objective was to learn new digital skills. In my 15+ years of policy working in Whitehall I have worked with numerous people across government. Like so many others I've always been interested in what the digital offer is to people, I heard about digital by default and the need to engage with people in less traditional ways, but I didn't think it was a realistic career route for me.  
I'd worked in policy for over fifteen years and enjoyed working with great people on issues like Land Law, electoral legislation and the Forced Marriages Act. I was nominated to a Royal Garden Party for my work on leadership and received a Civil Service LGBT Impact team award for my work on posthumous pardons for homosexuality. 
People say you can move between disciplines in the Civil Service, but how many of us actually do? 
Digital always seemed like a different world, with people who had chosen that pathway early in their careers, always worked in it and had a specific set of techy skills. Well now I know it is possible and I'm loving it! 
In 2017, I ended up working closely with Ministry of Justice's (MoJ) Digital and Technology (D&T) User Insight Team while doing my policy job. I discovered that I loved working in a tight team whose sole focus was on user insight to shape delivery, good communication and drive to get the job done, thank you team. 
So, I sought out colleagues to speak to in MoJ D&T about professions, roles and what skills of mine could be transferable. I made contact with a Senior Delivery Manager at the Government Digital Service (GDS) through the Civil Service job share finder site and arranged to job shadow for a day. It was time well spent. It gave me a detailed introduction and showed the diversity of issues, people and tools necessary for the role.
From there I took part in specialist training (the MoJ Intro to Agile led by the Head of the Delivery Manager profession at MoJ) before in 2018 applying to the GDS talent programme for existing civil servants.
After a taxing assessment centre, I was appointed to a new role as a Delivery Manager. I moved over from policy at that time and spent ten fascinating weeks working with MoJ D&T heads of profession, learning from the teams before moving to a programme of further specialist training and GDS job shadowing.
One year into the GDS talent programme I had a further interview with GDS and off the back of that became a Senior Delivery Manager at the Department for International Trade.
I'm in a newly formed department that welcomes people with different experiences and backgrounds. My managers have been supportive of my learning journey and I am able to take the crucial time out I need for learning and development. Importantly, I have permission to practice, try and fail or try and succeed with the support and understanding that I will learn and develop in my role. 
So, what keeps me going now the initial excitement has worn off?
The people, the team, the driving force to be better. I am very much at the beginning of my journey and am looking forward to the next stage in that. I feel lucky to work for an organisation which offers and encourages these kinds of opportunities and of course, grateful to everyone who has helped me along the way.
I hope others take advantage too, whether it's moving to digital or a completely different discipline within the Civil Service. I've learned that anything is possible.