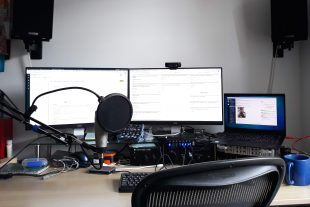 Feeling really exhausted, and not sure why? Yes, me too!
Presenteeism is when you remain in work or online in order to be seen to be working, or due to a feeling that working long hours is an expectation - it is working beyond your normal mental or physical ability.
Digital presenteeism is when you feel under pressure to always be available online, via video calls, phone, email, chat or Slack. It's when you've done a full day's work, but feel pressure to log on or reply later than your normal or preferred working patterns, even if you feel exhausted or unwell.
Remote working in a pandemic
The coronavirus pandemic has drastically changed the way we work, as so much of it is now online. Being continually 'on' while we work can have an effect on our wellbeing. Being digitally present can feel like we are performing for the camera, more than if meeting in person. We can end up having to work harder to show we're interested.
In the absence of many non-verbal cues, the intense focus on words and sustained eye contact is exhausting for our eyes, ears and brains, as well as our shoulders and backs.
But digital presenteeism is more than just 'Zoom fatigue'. It's like being switched on, all the time: meetings, chat notifications, emails, slack, news, social media, WhatsApp and on and on. It can be relentless!
We can be exhausted by the additional physical and emotional tension, and the pressure of feeling always on, and available at a moment's notice, if our calendar suggests we're free.
What can you do?
Be honest with yourself

and others about how you are feeling. Talk to someone if you are anxious, overwhelmed or feeling like you are heading for 'burn-out'. 

Set boundaries

: for yourself, your colleagues and your line manager. For example, block out times in your diary for 'no meetings', turn off notifications at certain times, don't respond to emails if out of hours.

Update your calendar

with your preferred working pattern, and don't be afraid to stick to it unless there is a real need.

Establish a 'wellbeing team charter'

for how your team behaves.  Set the expectation for others too for what is acceptable and what isn't. This goes for more senior people too!

Agree to be absent

. If you are not adding value to a meeting or not getting anything out of it, decline it or duck out early. You can give that time back for yourself.

Take regular breaks

away from being 'online'. Get some fresh air or call a friend rather than checking your social media accounts or watching the news.

Have regular check-ins

with your team. If you feel like this, others will too. Discuss wellbeing as though it is a team priority, because it is. 

Be kind to yourself

and others. Listen to your inner voice and take note. Take time when you need it to recharge. 
This list is not exhaustive, as everyone has different needs. If you find something that works for you that isn't on this list, feel free to share it in the comments. I also suggest the following articles for further reading:
Further reading:
Maintaining digital wellbeing in the time of coronavirus
12 Tips That Actually Help with Zoom Fatigue
'Zoom fatigue' is setting in: What it is and how to prevent it