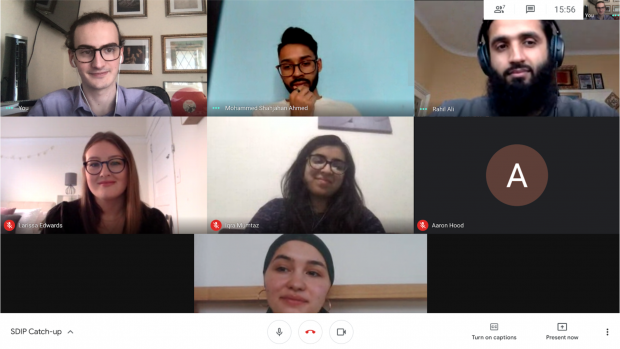 This summer saw the Government Digital Service (GDS) welcome the first cohort of remote civil service interns as part of the Summer Diversity Internship Programme (SDIP). Eleven interns worked across a wide variety of teams at GDS, and supported a range of ongoing projects, in addition to completing their own research. 
The interns came from diverse backgrounds and are all recent graduates or in their final year at university. Their experiences over the summer have been invaluable in gaining first-hand experience of government and the Civil Service, resulting in many of them now applying for the Civil Service Fast Stream this year. They have applied to a variety of different streams including the Digital, Data and Technology (DDaT) and Generalist Streams. 
These GDS interns were the first  to complete their experience totally remotely, due to the lockdown and closure of the White Chapel Building due to coronavirus. This experience has brought its own series of opportunities and challenges, such as learning to meet and work in a team without making contact face-to-face, but also made the experience more accessible for some interns. It has also highlighted the work of GDS at the digital heart of government, and allowed them to understand the digital operations of government incredibly quickly. 
Here's some of the work they've been getting up to:
Isabella -  DDaT Profession Capability Team
Interning with the DDaT Profession Capability Team in GDS over the summer has been an eye-opening and much-needed step out of my comfort zone. My main responsibilities have centered around improving and updating the governance process and content of the Capability Framework, which maps out the different DDaT jobs and their corresponding skills. Because building a diverse and digitally capable workforce is a cross-government priority, my work has involved many opportunities to interact with civil servants both inside and outside of GDS. 
Although working remotely can be daunting at first - especially when your role relies heavily on engagement and iterative processes - I felt really well supported by my team and other interns throughout. One of the highlights so far has been learning more about content design and user research both on the job and through online training courses. I've learned that putting user needs at the centre of our work enables the government to provide services and products that are more accessible to all, something that I am deeply passionate about as a diversity intern myself. 
Larissa - Communications and Engagement
This summer I interned with the Communications and Engagement team at GDS which provided me with the opportunity to learn about government communications and campaign planning. Crucial to this was learning about the OASIS model which ensures that all government communications are effective, efficient and evaluated. 
I had the chance to work on a few campaigns that were at different stages in the planning and delivery process. This involved developing social media content for a multi-channel government campaign on Accessibility Regulations Legislation in accordance with OASIS. I also collaborated with my line manager to create an OASIS plan to market the DDaT Fast Stream. I was responsible for horizon scanning for events and stakeholders to help increase the diversity of applicants to the fast stream, and as an SDIP intern it was great to see that GDS is actively taking steps to improve diversity in the workplace. 
GDS is such an adaptable and agile workplace which is clear when looking at how GDS was able to quickly and effectively respond to some of the challenges presented by COVID-19. For example, COVID-19 saw a significant rise in the number of people using the @GOVUK Twitter account to find out more information. I was able to see first hand the steps GDS took to upskill colleagues to help with this increased social media engagement as I completed community management training. This training required learning how to use Sprout Social and how to respond to public queries so I could support with the management of @GOVUK. 
Although the internship was virtual, I had numerous opportunities to connect with Civil Servants at GDS and in other departments. In some ways, being virtual made connecting with people more accessible as it was easy to schedule a Google Hangout or hop onto a meeting that sounded interesting. Everyone I interacted with at GDS and within the wider Civil Service was welcoming, open and supportive so I would recommend the SDIP to anyone that is considering pursuing a career in the Civil Service. 
Patrick - Strategy and Economics
During my time in GDS I worked with the Strategy and Economics Team, which supports the Cabinet Office and the digital function of wider government in strategic and financial planning. I joined at a great time, when the team was fully focused on the 2020 Comprehensive Spending Review, which allowed me to very quickly see the work the team does within GDS and across the DDaT function in the civil service. 
In addition to attending meetings and being introduced to many figures across different government departments, I also conducted a research project on "Horizon scanning of emerging technologies in 2020-30: Compared to the private sector and other governments, how ambitious is GDS policy in accessibility and sustainability". This allowed me to understand the kinds of planning and research the Strategy Team does, develop my civil service competencies and deliver quality real work for the department. I then presented and reviewed the project with others in the department, which gave me invaluable feedback and developed real skills I wouldn't have been able to grow elsewhere. 
Being one of the first remote GDS interns ever was a really interesting experience, and made me really grateful to live in a time and country where this was possible. My main takeaway is that remote working is certainly achievable and productive with the correct systems and effort from all parties. Not meeting anyone in person was a very odd experience, but every member of the team worked hard to ensure I was included and understood what was happening. This made me feel exceedingly welcome from the outset, which allowed me to use all the digital collaborative tools to their full potential. The experience was great, I'd recommend it to anyone interested in the Civil Service or GDS, but might not be able to do this otherwise. 
From all of us - thanks so much GDS!
While most of the internships are now finished, some of us have had our internships extended (even into 2021!), which is extremely encouraging and a good sign that we made a positive impression and worthwhile impact in GDS. We'd like to thank all GDS staff for their kindness and support, particularly in making us feel welcome in the organization without even entering the building. We've certainly all made career progress, understand a lot more about government and the Civil Service, and most importantly have expanded our skills and networks. We're incredibly grateful for the recognition and experience, and can't wait to return to GDS in future.