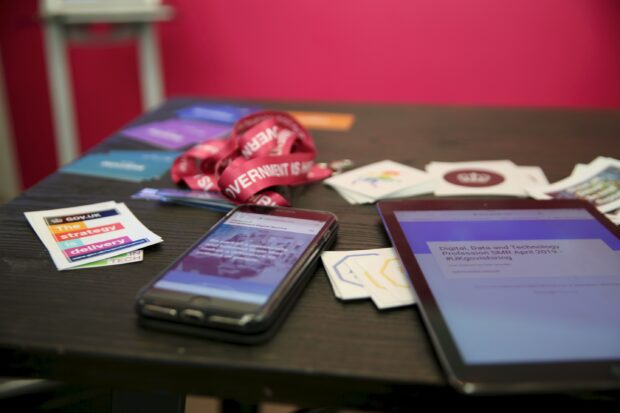 On 23 and 24 November, our digital, data and technology (DDaT) teams from across government will once again return to Europe's largest tech job fair to engage and interact with thousands of candidates.
Since our first attendance in 2017, we have been able to speak with thousands of diverse and talented people from varied backgrounds about our software developer, technical architect, delivery manager, site reliability engineer, data scientist, designer, product manager and other roles on our #UKgovishiring stand.
Attending the fair is a great opportunity to familiarise yourself with digital government and find out about the services that you may be using in your daily life. You'll be able to find out about our different digital career paths and innovative projects. Coming to see us at Silicon Milkroundabout may be the first step in you joining our large family. 
Why work in digital government
In 2019, there are more opportunities than ever before to tackle cutting-edge technical challenges in government and play an active role in shaping our society's future.
Technology is evolving faster than ever and we have a strong commitment to innovation. We also provide unparalleled training on emerging technologies including from world-leading academics.
Here are some of the things that make us unique: 
we're regarded as one of the world leaders in digital government

work life balance: we offer job share and flexible working on most of our jobs

our user-first approach and commitment to making services accessible for all 

we have a strong learning and development offer, notably through the GDS Academy

digital, data and technology (DDaT) roles are clearly outlined in government and the skills needed to do them

diversity and inclusivity underpins everything we do, and our ambition is to be the UK's most inclusive employer by 2020

we have some of the sector's largest specialist communities with plenty of opportunities to exchange, share and learn with peers nationally and internationally

consistent career paths provide visibility of the wealth of opportunities in the public sector
What our people say
Laura Tennant, Lead Content Designer @transportgovuk
"I really enjoy feeling that the work I do has a positive impact on the lives of citizens – in my case, it's helping them accomplish what they came to GOV.UK to do with the minimum of stress and confusion. In all of my government roles I've acquired new skills and also new friends. I can't imagine going back to the private sector."
Suzanne Best, User Researcher @HODigital
"The whole Digital, Data and Technology (DDaT) team made me feel really welcome right from the start, and were always willing to help me and answer my questions, even the 'stupid' ones." 
Fey Ijaware, Lead Front end Developer @DWPdigital
"Part of what drew me to Government was Hack the North 2.0. I was really impressed by the people and what they were trying to do, everyone really cared about the problems they were trying to solve. It felt like the kind of place I'd want to work, to be able to make a positive difference.."
Sharon Briscoe, Software Developer @HMRCdigital
"If anyone asks for my advice about this route to a career change into digital, data and technology, I tell them You'll get lots of help along the way and realise your true calling and potential.  We're setting high standards and we're building for the long term."
Tom Crooks-Smith, User Researcher @DFEdigital
"Working as a user researcher in government gives you the opportunity to understand real people affected by policies and services in a whole range of contexts. I get to tell their stories, bringing empathy and insight into how decisions are made."
Rosalie, Lead Technical Advisor @GDSTeam
"What I like about GDS is feeling can make a difference. By setting technology and data standards for the rest of the government to follow, you know you are helping government work more efficiently and effectively, and therefore helping to save money for the taxpayer, and improving the user experience of interacting with government." 
Building the best public services starts with people
We believe that building the best public services starts with people because without people there isn't a service. We can only do that by being an inclusive and diverse government that reflects the citizens that we serve. 
This is why it's important for us to reach out and connect with as many talented professionals as possible and talk about what we do to make government work better for everyone.
Register to attend and come to stand 106/107, on 23 and 24 November to chat to representatives from our government Digital, Data and Technology team.

Follow @digicareersgov for digital, data and technology jobs opportunities nationwide.