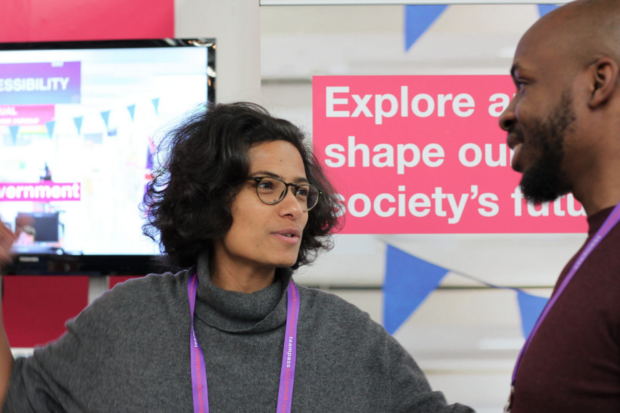 In November 2017, several government departments teamed up to recruit together at Silicon Milk Roundabout.
Over 2 days, digital, data and technology teams on our stand spoke to hundreds of people interested in a career that combines purpose and excellence in equal measure. We're glad that some of the people we met back then are now part of our large family!
It proved a unique opportunity for people not familiar with the work of digital government to find out about different departments and their distinct missions, but also what they all shared in common.
Who's going to be there?
This year you'll have the chance to meet teams from the Home Office, Defra, Ministry of Justice, DWP Digital, Government Digital Service, Department for Business, Energy and Industrial Strategy, Ofgem and more.

Whatever your level of technical expertise, we invite you to stop by stand 106/107 and ask questions. Tech specialists and recruiters from all walks of life will be at hand to answer your queries, tell you what it's like to work in digital government and how they got there. We'll even have people to talk about some of our best digital internship programmes.  
Why work in digital government?
Whether you're a developer, technical architect, delivery manager, webOps engineer, work in data science, user-centred design or product management, a career in government gives you the opportunity to solve complex problems that positively affect the lives of millions of people.

There's never been so many opportunities to transform public services and create things that have a direct impact on the population. The potential to influence and shape the future of our society is unparalleled.

We're also pioneering exciting things in the field of innovation, emerging technologies, artificial intelligence, machine learning and cyber security.
In addition, the UK is widely recognised as a global leader in the field of digital government by other countries and multilateral organisations. It consistently ranks in the top 5 countries in a range of surveys by the United Nations, the OECD (Organisation for Economic Co-operation and Development), Open Data Barometer and Global Open Data Index.
Our tech stack

Our multidisciplinary teams work in agile environment, use open source technologies and continuous integration in DevOps culture. Our tech stack includes: Ruby, Python, Java, Go, Scala and AWS - but we're continuously looking to work with the best tech to build the best platforms.
The stuff we value:
accessibility

and focus on the user. This means everything to us

substantial learning and development, for example through the

GDS Academy

, the chance to upskill, retrain with some of the most high profile academics in the world
We look forward to seeing you soon.
Follow @DefraDigital, @Justice_Digital, @DWPdigital, @DWPDigitalJobs, @HODigital, @beisgovuk, @ofgem, @GDSteam and @digicareersgov for job opportunities and career stories from across digital government

Visit the 'Government is hiring' stand 106/107 on 24 and 25 November.