As we celebrate National Inclusion Week, Daniele, a developer, describes how making connections with networks is helping the effort to improve gender parity in both GDS and the wider tech industry.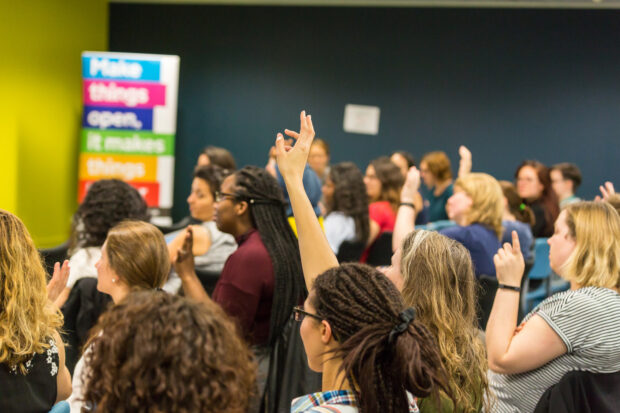 I started working at Government Digital Service (GDS) just seven months ago. I was in the private sector and wanted to find a job with a bold mission. Initially, I didn't consider working for the government because I thought the technologies were old and the processes were slow and dull. That was until I went to a meet-up. It made me realise how cutting-edge government can be. GDS was my answer. I applied, was successful and became a developer in the GOV.UK Pay team.
It didn't take me long to realise that GDS was a special place to work. There is no one 'type' of GDS person. We all share the same passion and drive to achieve our mission but if you look across the office, everyone is different: different backgrounds, different cultures, different ways of seeing the world. People can be themselves. Other workplace cultures may tend to suppress those differences. GDS isn't like that and I know that many other government organisations aren't either.
Diversity allows me to learn a lot from others and to be myself, with my differences and quirks. As an introvert, I feel much more valued here than in previous roles. There is even a network for introverts to make our working environment enjoyable and empowering for us too.
Network connections
During a GOV.UK Pay team retrospective, we talked about how the majority of our team is white and express as men. This isn't unusual in the wider tech community. In particular, it is not easy to find diverse Java developers and, in my team, we use Java extensively. We came up with ideas to try to improve gender parity in the team.
I suggested reaching out to relevant networks. So that's what I did. I contacted the organisers of Ladies of Code. It is an international network that supports women in technology. They were very excited as they'd heard good things about GDS. We decided that it would be great for GDS to host one of their monthly meetups.
I also asked the organisers if GDS could contribute with additional speakers and they happily accepted. It was a win-win: the event had even more learning opportunities for the attendees and some of my colleagues had the chance to public speaking, which it is something GDS encourages.
GDS also hosts Codebar meetups, I am a volunteer coach. It is so heartwarming to help people from under-represented groups learn about software. I totally feel I receive more in those sessions than I give. I encourage more people to get involved.
Hosting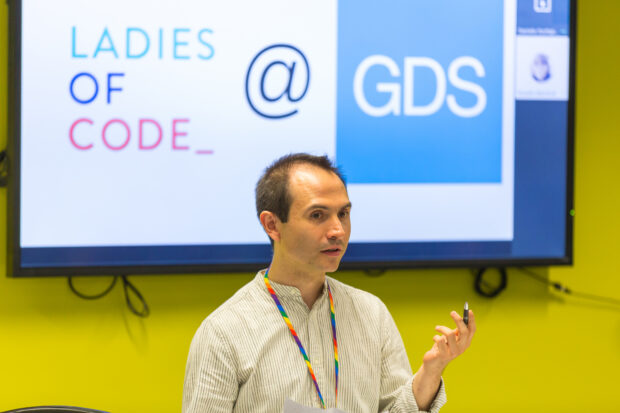 The evening was fantastic - it gave me a very warm feeling to see a group of over thirty developers networking in our social hub over food and drinks.  After the social, there were 3 talks. The first was by Tatiana Stantonian, a developer at GDS, who shared insights on how to use Github efficiently. Rosalie Marshall, the lead technical writer at GDS, explained how we manage our documentation in a similar way as our code.
Finally, Ines, one of the Ladies of Code organisers, talked about how to increase code quality in software projects.
I also said a few words about the great things we do at GDS and why I love working as developer here. I feel that one of the best ways to attract developers is for them to see how passionate developers are here.
A highlight of the evening was when an attendee found me at the end of event telling me that she thought that all Government employees wore suits. That's clearly not the case in digital government. After that, she asked me for advice on how to apply for a job at our office.
We're working together with the Ladies of Code organisers to host another meet up since this first event was such a success. They are circulating our vacant positions and promoting GDS as an employer.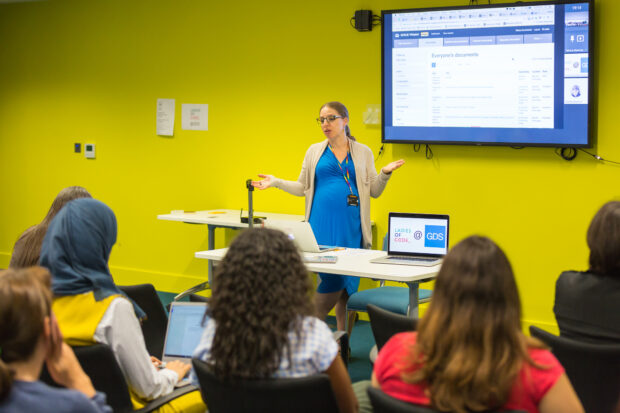 We would like to connect with other networks and groups like Ladies of Code, so comment below if you want to get in touch.
Apply for one of our open positions, I think you won't regret it. You will use cutting-edge technology to solve difficult challenges in a truly agile environment. There are lots of opportunities for training and development. You get to spend your time with inspiring, considerate, fun colleagues, and, last but not least, make the life of us citizens better.
Read more about how GDS is marking National Inclusion Week 2017
Don't forget to sign up to our blog for updates and new stories