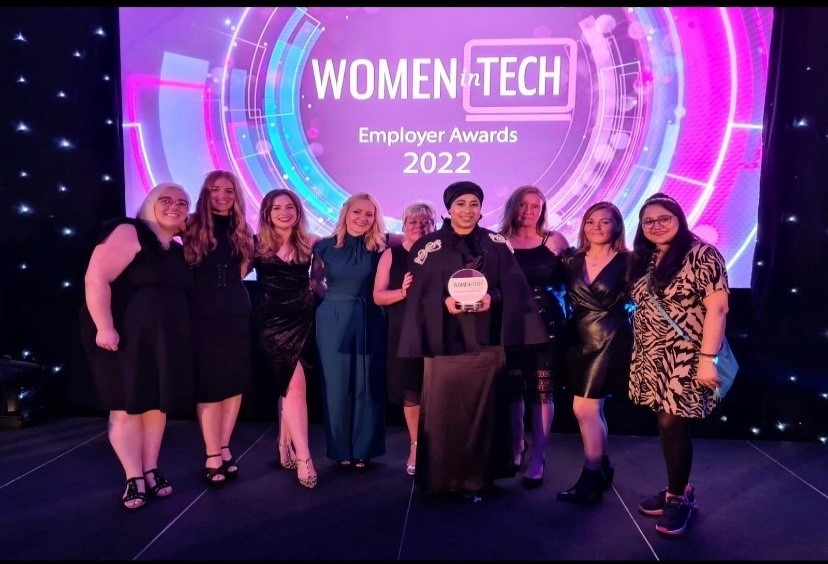 My name is Richa and I'm a senior architect working in HMRC. On behalf of everyone in our Women in Tech network, I am delighted to be able to say that HMRC won Best Public Sector Employer in this year's Women in Tech (WIT) Employer Awards. To have our organisation's commitment to diversity and inclusion and its work towards gender equality and the encouragement of all our women in roles with a technology flavour makes me very proud. The judges were impressed with HMRC's outstanding support for women through benefits like flexible working and our mentoring platform offering job-shadowing and coaching opportunities. The award also recognises our efforts to reduce unconscious bias in recruitment.
On 26th May I had the chance to attend the award ceremony surrounded by all WIT super-women, on behalf of many more within HMRC and our many male allies.  It was the first ever live event hosted in the Montcalm Hotel in London, and I was thrilled to discover that from WIT we went there for the first time and won. It was hosted by the brilliant comedian, writer and actor Sindhu Vee.
Inspiring is a word that gets used a lot these days, but that's genuinely how I felt celebrating so many amazing employers and individuals who are passionate about closing the gender gap in tech.  HMRC was up against strong competition in the Best Public Sector Employer category, being shortlisted alongside DWP Digital and the Department for International Trade. That made me even more proud that night going up on stage with my colleagues to collect our award but big congratulations to all those shortlisted, as well as the many other parts of government doing a fantastic job of highlighting that women are an asset to any organisation and the IT industry.
Here's what our Chief Digital and Information Officer, Daljit Rehal, had to say:
It's fantastic to see our Women in Tech network being recognised for its work addressing gender balance in digital roles across HMRC. A balanced workforce that reflects our society benefits us all, from our teams right through to the services we provide for our colleagues and customers.  HMRC is committed to creating a great place to work for all our colleagues with an inclusive and respectful environment that reflects the diversity of the society.
Here at HMRC, our purpose is to collect the money that pays for the UK's public services and give financial support to people. It's a vital role and technology drives the work our 65,000 colleagues do every day. With one of the largest IT estates in the UK, technology roles in HMRC come in many shapes and sizes – everything from architects like me, through to business analysts, security experts, delivery managers, product owners, data Scientists, developers, designers and testers. We've a very active WIT community that's represented right across our IT function and beyond.
We are passionate about sharing knowledge and discussion on a variety of topics. Since January 2022, we have hosted hugely successful community sessions on:
Empowerment

Breaking the bias

Embracing personal transformation

Being the CEO of your career

Monthly Women in Tech Coffee Mornings

Benefitting from Inclusive Cultures 

Imposter Syndrome 

Reed Women in Tech Mentoring Programme 

Gender Equality - not a women's issue! 

Thriving as an introverted leader 

Women in Security 
As the community keeps growing, we're keen to keep the momentum going and continuing to drive real change within HMRC and beyond. 
It's also an exciting time to work in technology. HMRC is building a digital tax system so we have a very important role to play in the department's future. We've already come a long way on our digital journey and we're building new high-quality digital services that will transform the experience of customers and make tax feel easier for everyone.
If you work in a technology role, or fancy a career change, come, and join us in an exciting, innovative, and diverse place to work. Take a look at our current IT job vacancies.
"Please follow our Women in Technology blogs  Or leave a comment and one of our steering group members will get in touch with you."