Delivery Managers from all across government sharing knowledge and making connections
I was fortunate enough to snag a ticket to DeliverCon 2020, the conference for Delivery Managers within government.
On the 26 February over 100 Delivery Managers gathered in Newcastle-upon-Tyne, from a wide range of cities and organisations. We had almost everything we needed - a great venue, great people, the only thing we were lacking were unconference topics to discuss for a full day together. So what did we do all day?
The Unconference Sessions
Following an energiser to pick out the unconference topics based on "what would you discuss here today if you were 100x bolder?", we moved into 4 separate spaces to discuss the top rated ideas which ranged from communities of practice, to poor performance, to wellbeing and beyond. These happened over 5 time slots, enabling mixing between groups and the chance for everyone to discuss a number of ideas that they were passionate about.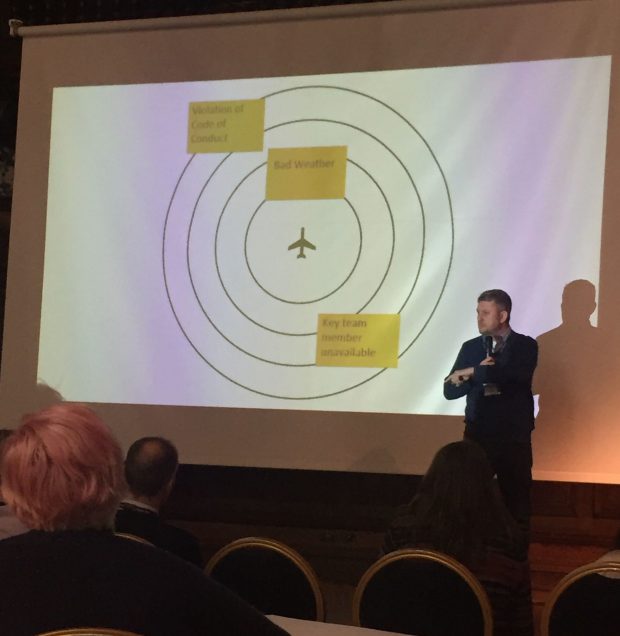 Lightning Talks
Lightning talks offered the opportunity for 6 Delivery Managers from all levels of experience to present their views on anything that has influenced them during their time as a Delivery Manager. We heard views from across the delivery sphere. The full list was:
A healthy approach to risk on agile projects, Steve Parks - Convivio 

A guilty feminist, Chloe Thompson - HM Revenue & Customs (HMRC)

The Digital, Data and Technology (DDaT) Fast Stream & why I'm choosing to be a Delivery Manager, Myles Jarvis - DDaT Fast Stream

Alpha Alpha, Julie Guthrie - National Archives

Making a dysfunctional team into a high value team, Timi Awodipe - HMRC

Complexity & Cynefin for Delivery Managers, Xander Harrison - Government Digital Services 
There were some fantastic takeaways from this and things which I know Delivery Managers are already implementing in their day to day role. Whether this is using a risk radar to visualise how they might impact the project, how to get a Fast Streamer into a delivery role, to how they might analyse the type of complexity in their delivery to work out the best approach to learning about and solving it.
Finally, a retro
An event full of Delivery Managers would not be complete without a retrospective. We used a "Live Retro" board to collect feedback from throughout the day (in little & often chunks). It asked for a few key data points:
Mood Score: Never below 6/10 from any participant at any time during the day.

What worked well: The venue. The lunch. The connection building. The sessions and how they were selected.

It would be better if: Lightning talks had their own slot for all to attend, instead of alongside other unconference slots.

Other comments: A great networking opportunity, and a chance to take a step back and evaluate other ways of working.
My main takeaways from the day
The Delivery Managers Community is alive and well and that there is a

high calibre of people within government.

Between us, we have the toolsets, experiences and collaborative mindset to solve the problems we all face on a day to day basis.

We shouldn't let another 2 years pass before the next one.
A huge thank you to all those who organised this day, and I look forward to next time.