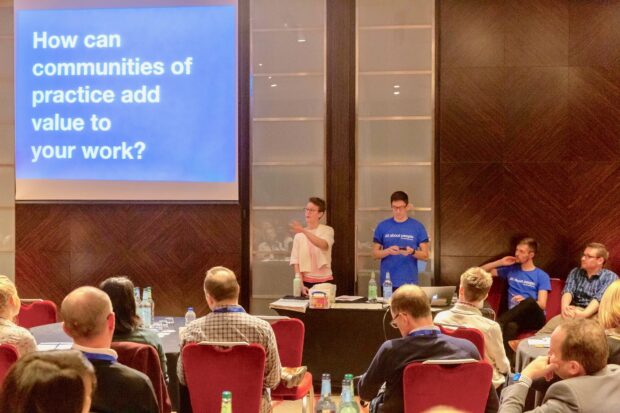 Communities of practice bring people working on the same thing together. Practitioners across government can share best practice, discuss challenges and develop their capability. This helps us build better services for users, and it also makes government a great place to work.  
In the Digital, Data and Technology (DDaT) Profession, communities support a wide variety of jobs, such as the Product and Service Community and Data Science Community. 
Part of my role as a capability manager within the DDaT Profession team is to grow communities and help them support implementation of the DDaT Profession Capability Framework – a common set of roles, skills and career paths. By supporting this, communities of practice can help people feel fulfilled in their work and progress in their careers, and organisational DDaT capability is increased.  
Over the past few months, I have spoken to people across government to encourage community development and demonstrate the value of communities to the Civil Service.
Research communities of practice in DDaT
Communities of practice are well established in government; community leaders were blogging about starting groups back in 2016.  
However, I wanted to learn more about how these groups were operating across government and what their scope was. I wanted to know how they were supporting people's needs, how aware people were of them and where they existed in the DDaT Profession. I also wanted to see whether my team at GDS could do more to support and grow communities as part of our work to develop DDaT capability across government.
To find all this out, I spoke to capability leads, heads of communities, and community members in more than 50 departments and arm's length bodies. From this, I established a database of more than 150 contacts. 
Finding active and vibrant groups
Through these conversations, I've found communities of practice are thriving across the DDaT Profession. People at all job grades and in all roles are doing fantastic work to share best practice and solve cross-government challenges. 
In some cases, such as in the User-Centred Design Community, people hold specific community management jobs. These roles increase the support communities can offer through dedicated events and learning opportunities.  
In some parts of the DDaT Profession, cross-government communities are growing rapidly. For example, the Data Science Community has increased the engagement on its Slack channel from 600 to 2,500 people in under a year. 
In other areas, communities have been crucial to career progression. For instance, the Business Analysis Community has helped define roles within the profession and support people on their career paths. 
This has also happened in the Product Management Community, where learning and development opportunities to grow as a product manager have been created. 
To continue to grow, these groups must work in the open and share both successes and challenges. One way to do this is through maintaining an active community blog, such as Design in government or Data in government, where experiences can be shared. 
Let's keep on connecting
I want to continue connecting people across government, giving everyone in the DDaT profession an opportunity to develop their capability through communities of practice. 
By encouraging participation in communities of practice, learning and development opportunities can be exchanged, good practice can be discussed and developed, or tools and assets shared across organisational boundaries. By allowing tools such as Slack or Knowledge Hub to be used, communication channels can be opened up across departments increasing cross government collaboration. 
This takes time and effort, but the value provided to the individual and department is significant. 
There is more information in the Service Manual about setting up a community of practice and a list of communities that already exist. There is also a helpful blog post on how to set up a community and maintain a community, written by Rose Waite, a community co-founder. 
Or, if you want to join a community, you can connect on the cross-government Slack community channels or speak to others in similar job roles to you in your organisation. 
I cannot wait to see you all getting involved with your most relevant community, or starting your own!