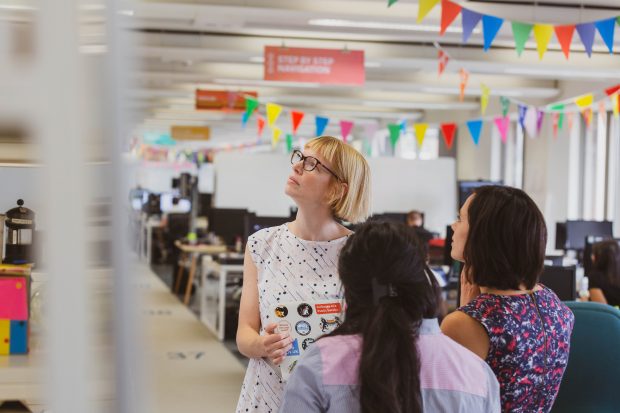 I've been working as a content designer on GOV.UK for the past 4 years. Since returning from maternity leave last year I've been working part-time with flexible working hours.
At Government Digital Service (GDS), flexible working patterns are supported and encouraged, and this has really helped me balance my work and being the parent of a small child.
Here are some of the things I've found particularly helpful at GDS:
Letting parents choose how to keep in touch
I'm really passionate about my job and what we do on GOV.UK to help users get what they need of government.
Before I went on maternity leave, I was quite anxious about how I would cope without my job (as well all the unknowns of life with a baby). My head of community let me know I could choose whether and how I wanted to keep in touch with work during my leave. This was a huge relief as I did not know what I would want or what to expect.
There are a number of ways you can keep in touch during maternity leave. These include staying in touch on social channels or going on training courses.
I decided to fully absorb myself in home life for the first 9 months, which really worked for me. My colleague Louise Miller, who also recently went on maternity leave, has also written about how she has kept in touch. You can read Louise's post on the Civil Service blog. 
Working from home
Working from home is really common at GDS - it gives many of us the space and quiet to focus on particular tasks.
When I was pregnant, I worked from home:
around antenatal appointments, freeing up my travel time to work

before or after work trips to Newcastle

towards the end of the pregnancy, to manage fatigue
I now work from home at least half a day a week. This helps me to work a longer day and then fit in pick-ups from nursery on my other days. I've also managed to run at lunchtime, which is great for my physical and mental health.
Working flexible hours
Later on in my pregnancy, I started work at 10am when the tube is quieter and I had more energy. You don't have to be pregnant to appreciate this. Some people do their best work really early whilst other people prefer to work into the early evening.
I now start work at 8:30am, can complete almost 2 hours of work before our morning stand-up meeting and I can leave on time to pick my son up from nursery. Having a definite finish time also means I just work on the essentials and do not take on more than I can manage. It involves repeatedly reworking what I plan to do over the next hour or so.
Doing one thing at a time
Doing the washing up whilst talking to a friend works fine, but multitasking is inefficient for tasks which require a level of attention and consideration.
Since having a baby I made a resolution (originally born of sleep deprivation) to do these more complex tasks one at a time. Since coming back to work and putting it into practice, I am more focused and no longer multitask. I feel calmer and get more done as I'm able to apply myself fully to that task.
And by doing one thing at a time I also mean that I'm either at work or I'm looking after my toddler. I don't expect to be available for childcare on a working day unless there's an emergency - and would never have my child at home if I'm working there.
My team don't expect me to be available on my non-working day either. This means I can be fully present in the sandpit, the park or wherever else the day takes me - and enjoy it!
Having the full day off from work on Friday refreshes me and means I'm much more effective when I'm back in on Monday.
Using online tools
The online tools we use at GDS make flexible working a lot simpler. For example, you can take it for granted that Google Calendar shows where you are on a given day. This saves me and everyone else time. I do not expect people to consult my email signature (or have to remember) to know when I'm working.  
And by adding info to my tickets in Trello, I can keep my team up-to-date with the progress of my work. This means that I'm not blocking work on my non-working days.  
A dedicated space for breastfeeding
After 12 months I was ready to come back to the job I loved. I wanted to keep breastfeeding though - and GDS was really supportive.
GDS's new building has a mother's room which provides a clean, private space to express and store milk. This can also help prevent a painful condition called mastitis.
A workplace for all
I really like the balance of parenting and working part-time.
It's really important to me that I do not feel like I'm getting special treatment. At GDS these working practices are open to everyone - not just new parents - so I do not ever feel like I am being treated differently.
They allow us all to manage our physical and mental health, pursue hobbies and other interests as well as manage family life.
Find out more about careers and jobs @digicareersgov and Civil Service Jobs.