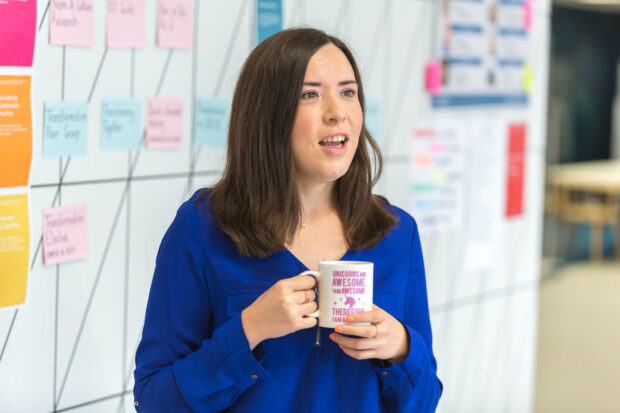 How I ended up on the Digital, Data and Technology (DDaT) Fast Stream
My path from University to the DDaT Fast Stream wasn't a smooth, quick transition. After graduating with a Law and Welsh degree from Swansea University, I travelled to Brazil for a year, before returning home and working on several short-term contracts for different charities, mainly helping people get back to work. It was through working for one charity writing CVs in my local Job Centre that I found myself applying for a Civil Service role there, going on to spend two years as a Work Coach before joining the Fast Stream.
I was a Law graduate, who had also picked up an Adult Literacy PGCE and a Masters in Criminology during my 7 professional pre-Fast Stream years. The next thing I knew I was going to work on the Fast Stream. Well, why not?
If there is one thing I've realised, it's that you don't have to be a tech genius to be on the DDaT Fast Stream. I was just someone who was passionate about making a difference, who wanted to be a part of the digital transformation in Government and who was eager to develop. I soon discovered that many others were just like me.
My roles on the Fast Stream
I started at the Welsh Government in Cardiff, working on digital engagement. I got to interact with colleagues across Welsh Government to find out how they were using digital collaboration tools and used my research to develop a digital engagement toolkit as a resource for staff.
As a fast streamer, you sometimes get exposed to unique development opportunities in departments that allow you to spend time with others across different schemes. I spent a few days in Brussels with all the Welsh Government fast streamers, learning about Wales' position in Europe with Brexit. I visited places like the European Parliament and Commission, witnessed a traditional Scottish Burns' Night ceremony complete with the cutting of the haggis at Scotland House and obviously ate too many waffles.
My second posting was at the Home Office in Westminster. I worked for the National Police Information Risk Management Team (NPIRMT). I got to write national policy for policing and visited prisons, police forces, private companies and other government departments, conducting audits to check that police data was being used securely.
I went to the CyberUK Conference in Manchester and learned all about the exciting things the government and private sector are doing to keep our country safe online. I also took part in an anti-terrorism simulation, which was perhaps one of the most exhilarating things I've ever been involved in. I would tell you all about it, but then I'd have to kill you.
I've just started my second year on the Fast Stream and will spend the next 6 months working as a Delivery Manager on postgraduate teacher training at the Department for Education in Westminster.
Relocating to London
I grew up in the Welsh valleys and apart from a year spent in Brazil, I'd never lived anywhere else. Relocating to London after 6 months on the Fast Stream was a daunting prospect, but was something that I embraced as much as possible. Being a fast streamer allows you to experience what government is doing across departments and locations. Relocation helps you to experience that to the fullest, broadens your horizons and enables you to meet so many interesting people.
There's lots of support available if you are relocating and you'll always find plenty of help available from those going through it too.
Advice for those going through the application process to the Fast Stream
My application process feels like a distant memory. I remember that the initial online stages happened in quick succession. It helped to maintain a calm, focused mind and to apply sound judgement. The video interview was probably the first stage that I properly prepared for. I read up on some of the key competencies and came up with a range of different examples I could draw on from my professional, educational and personal background.
The assessment centre and final selection board were definitely the most challenging parts of the process. I built on my understanding of competencies and spent plenty of time reading over the guidance issued before attending. The biggest tip I can perhaps give you is to read the task instructions properly. This may seem like an obvious thing to say, but so many people lose marks because they don't follow them correctly. Also, embrace the chance to interact with other candidates on the day. They will help you enjoy it and you will likely see them again at some point when you get accepted!
Helen Morris is on her second year on the DDaT Fast Stream.
Applications for the DDaT Fast Stream are open until 25 October 2018

Sign up to the Digital People blog for updates on career routes and talent development across digital government.