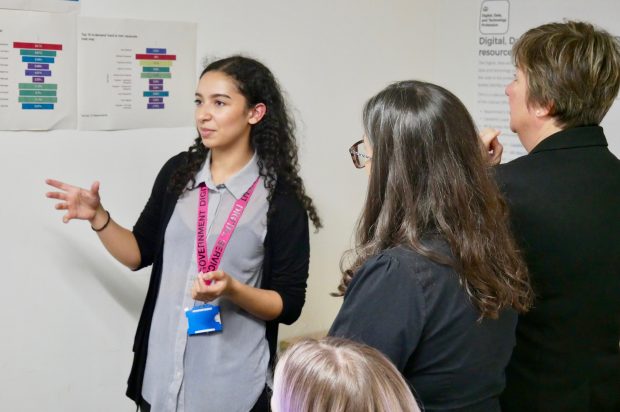 Making better use of data is a government-wide ambition. A data-informed approach helps to inform policy decisions and improve services. It also helps us improve the diversity of our workforce.
Diversity is important in every sector. Diverse teams are more productive. They perform better. For organisations, diversity helps to attract and retain staff. A diverse environment breeds creativity and improves the quality of the service provided.
For the tech sector in particular, diversity is an issue. The 2018 Tech Nation Report shows that only 19% of the wider technology sector workforce is female. An even lower percentage of people are from ethnic minority backgrounds.
In the 2017-2020 Transformation Strategy, government set out our ambition to become a leader in attracting diverse talent. The workforce insights and analytics service at the Government Digital Service (GDS) is there to help make sure we are doing this in a targeted and data-driven way.
Data gatherers
My team came into being in 2017. We run the Digital, Data and Technology (DDaT) Workforce Insights and Analytics service at GDS. Our team is multidisciplinary. We're made up of people with experience in workforce planning to standards and assurance, but we've all been trained to use HR analytics software.
We gather data and provide departments with workforce insights on the 17,000 DDaT professionals across government.
The data we collect includes information on the job roles aligned to the Digital, Data and Technology Profession Framework and the workforce's locations and diversity.
With this data we are able to identify cross government demand by job role and location. This helps us to identify areas to focus on: for example, where there are multiple cross government vacancies for the same role. This also helps us to identify opportunities to build and grow our people and skills.
We also provide tools and frameworks to help our colleagues plan and build their DDaT workforce. This includes a resource planning tool with which the user can calculate the length of time taken to hire DDaT specialists. There's also a new development location assessment framework which helps the user assess the benefits of different UK locations for building and growing DDaT capability.
Collecting data is a collaborative effort. The more data we have, the richer our insights.
This month, we commission our second workforce data collection of the year. We want all major departments to provide their workforce data, including data on gender, pay, ethnicity and age.
All of this data is anonymous. We do not want detailed information about individuals: we need to be able to identify patterns and trends.
Confidence in data sharing
Since launching the service, we have worked closely with information assurance experts to make sure our process for data collection, storage and analysis is secure and compliant with General Data Protection Regulations (GDPR).
This means that government departments can be confident about sharing information with us on these potentially sensitive areas.
This reassurance has led to 18 departments signing a joint Memorandum of Understanding to share workforce data with us; 9 of those departments are already sharing gender data.
We are hoping that, with this commission, we will see an improvement – particularly in the amount of data we collect about salary, ethnicity and age.
Data-driven action
Being able to collect more data means that we can do more work to reduce the gender pay gap.
The gender data we've collected so far is helping us to understand which 'job families' have good gender diversity, and which ones don't.
For example, we've found that roles in the Product and Delivery and User Centred Design job families (such as Delivery Management and User Research) have relatively even numbers of men and women. However, those in the Technical job family (such as Technical Architects and Software Developers) are currently showing low levels of gender diversity. Our challenge now is to identify how we can address this disparity in the profession, working closely with HR professionals and government organisations.
These kinds of insights help us target our resources so we can investigate the root causes of disparity. They can go all the way back to education, with the number of girls taking STEM subjects, as well as other factors such as the language used in job descriptions. They also provide a baseline so we can measure the impact of new initiatives we launch.
We'll also be able to identify ways to improve attraction strategies, to encourage more people from diverse backgrounds to apply for DDaT roles in government.
Progress made so far
We've already seen how our insights can lead to change. They have enabled us to identify DDaT capability gaps by role, region and department – this has paved the way for us to make better use of our resources and design programmes to address those gaps.
Since January 2018, we have launched over 10 different capability initiatives. These include centralised recruitment for delivery managers, and new apprenticeship paths in business analysis and software development. In addition to this, we've also made our commercial frameworks easier to access and use. These workstreams have brought over 500 DDaT specialists into government, helping to make sure that we have the right people and skills in place to build and deliver digital services.
Alongside the work we do centrally, our workforce analytics tool is available to use for all DDaT functions. This means that colleagues in government departments can carry out their own analysis at a local level, as well as receiving the cross-government insights that my team produces.
Get involved: share your data
As we prepare our next commission, we are asking government departments: help us push forward the government diversity agenda.
Share your data with us by providing a full respond to our workforce commission, and help us make the DDaT workforce as diverse as the people we serve.
Delwar Ali is now leading the Insights and Analytics Team, if you have any questions you can get in touch with the team at workforce-insights-and-analytics@digital.cabinet-office.gov.uk