Simon Daly, 3rd year Digital and Technology (DaT) fast streamer tells about switching career to the Fast Stream. Applications are open until 30 November 2016, so read on.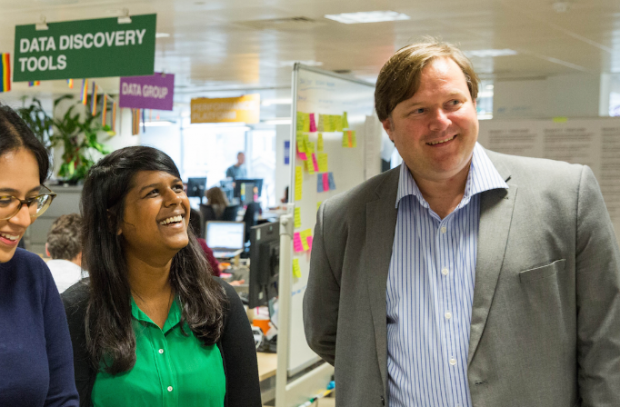 The Fast stream is part  two of my second career. I used to be an engineer programming machines that made aircraft components for Rolls Royce and British aerospace. I decided to change career in times of uncertainty in engineering so the motivation was clear but the choice of government less so. It was simple really: my wife was working for DWP and constantly getting development opportunities. Having done the same thing for 10 years,  I thought that sounded good!
Two and a bit years ago I sat in DWP at Peel Park, Blackpool, having completed nine years of service, and asked myself if I wanted to carry on developing my own career. I had achieved successive promotions from Administration Officer to Higher Executive Officer in 6 years and felt ready to move on to a Senior Executive Officer role. I concluded that I wanted to continue my Civil Service journey as part of the best talent programme in the UK, if not the world. I wanted to be part of a Fast Stream Team to take from the scheme and to give back to it.
I had to work hard to earn a place at the Fast Stream table. Being an "in service candidate" meant that I didn't need a degree but still had to go through the exact recruitment process that university graduates face. When I got the news through that I had won a place as a Digital and Technology Fast Streamer I felt proud of the achievement and wondered what part two of my second career was going to be like…
It didn't take long to find out. On the Friday I left a damp and drizzly North West of England and on the Monday morning I stepped out of the tube on a glorious blue skied London and walked into the Ministry of Defence's (MoD) headquarters to start my first placement, with a view of the London Eye, no less. I felt both elated and humbled. The blue skies quickly disappeared but my feelings have stuck with me.
So far I have worked in MoD delivering a digital roadmap (now in its fourth incarnation, I believe). I have authored a paper on a market assessment of Smart Meters at DECC (home of the Harry Potter Ministry of Magic elevator). I have delivered digital projects at the Home Office and lately have been working on Robotic Process Automation at HMRC who are currently the leading light on this technology in UK government, if not the country as a whole.
I got my fair share of development opportunities over the 11 years, both good and bad. The good ones have come thick and fast in the last two years, from having responsibility for millions of pounds worth of project and, delivering enterprise social media, to submitting business cases for tens of millions of pounds, on occasion riding in a tank and blowing things up! I hope they keep coming, and as part of the Fast Stream I have every confidence that they will.
Apply for the Digital and Technology Fast Stream if you want to have an exciting role in government, transforming technology and building better digital services. Applications are open until  30 November 2016.